A new custom home is not as far out of reach as you may think…
What you need to know?
Building a new custom home can be an exciting and memorable time. Making the correct decisions in the beginning of the process however can be the difference in it being exciting or miserable.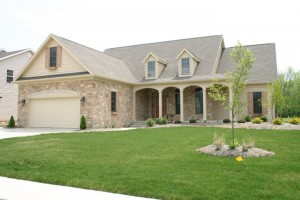 The big questions in the beginning are usually, do you find and purchase property, then find a house design, and finally go looking for a builder? Or do you find the builder first? My answer would be, everyone is a different personality and the answer is different for each potential home owner. Some potential home owners do a great job locating property and finding designs without any help at all. Building a new custom home is a huge task and a big deal however. Whether you know exactly what you want or not, I really feel that acquiring a builder in the very beginning is the best decision.
A quality professional home builder will want to be involved in the process as early as possible if the builder truly cares and is passionate about his or her product. I have never considered myself to be a "general contractor." That label has never seemed to carry enough emotion for me. I am a custom home builder, a builder of my customers emotional ideas. When a person or a couple builds a new custom home it is an emotional endeavor for them. It is my job to capture that emotion and turn it into reality while at the same time keeping the budget in check. It takes more than just a builder that can drive nails, it takes a builder that can drive nails, balance a customers emotions, balance a budget, and deliver the final product that matches the customers vision.
So, what do you need to do to get started?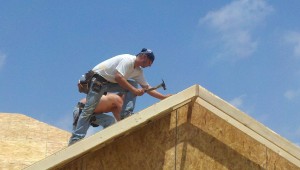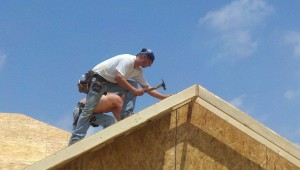 The idea of building a new custom home is always the beginning. The next step would be to figure a budget that you can be comfortable with. Remember, I said comfortable with, not what you can afford. You may be able to afford $250,000 but that means you sacrifice your weekly vacation every summer. What you are comfortable with means you can afford it without sacrifice and changing your lifestyle. I have a lot of experience in building homes and with that comes experience with the people that live in those homes, how they feel after they move in, and years down the road. Be comfortable with a budget first, otherwise you will go searching for home plans or location and be crushed when you figure out it's not feasible.
The budget is in place, next and in my opinion, go talk to two or three qualified custom home builders. Make sure they are established professional custom home builders. The Muncie/Delaware county area contains a few very good companies that are suitable. There is a huge difference between a custom home builder, a production home builder, a home improvement company, a carpenter, or handy man. We will all meet with you for free and you can learn a lot of valuable information from a professional custom home builder.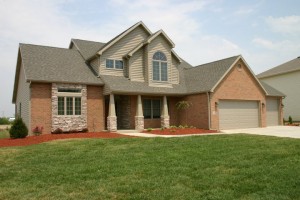 You have met with the different home builders and discussed your budget, the size and style of home you would like and you have talked about where you would like to build. Now here is where most people go the wrong way. Potential home buyers try to handle choosing a builder like they are choosing a new car. It doesn't work and for a very good reason. You buy a car from a dealer based on price. The salesperson you deal with is selling a product that is one of thousands of the exact same thing. You also will only see and speak to that salesperson two to three times tops. Your home builder that you choose will be in close contact with you on a daily basis for a minimum of two to three months and depending on the size of the home it could be up to a year.
You need to choose your home builder based off of three things, first and foremost. Qualifications, longevity in the business, and most importantly….Likability! Yes, it is crucial that you like the person you hire because if you don't like the person, you won't trust the person. Do you really want to spend months designing, building the home you will live in, while working with a person that you are uncomfortable with? If you have already shared your budget, than an established professional home builder is already going to do absolutely everything he can to give you everything you want for that price. All of the long established home builders of the Muncie area know each other and we all charge very close to the same rate. Choose a builder you like in the very beginning and you can relax and know that serious mistakes are not going to be made right out of the gate!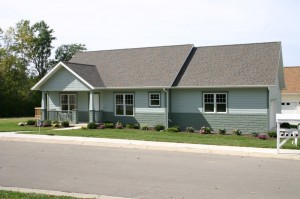 I have always felt that one of my specialties is the design and site selection phase. There are hundreds of intricate details that must be considered just in the planning phases. I have a tremendous amount of experience and pride myself in designing homes that flow properly and fit well within its surroundings. Elevation, or height of the home on the site, is a crucial aspect that I never overlook. Every single home, since I began with the company twenty years ago, was staked out and the elevation set by myself. I have not and never will trust anyone to handle this very important process. The foundation has to be laid out right the first time, no excuses!
If you decide on myself and Butler Homes you will have chosen a builder that is a true professional custom home builder. I am not a salesman that will turn you over to a construction manager and I am not a figure head of a company that will only make periodic visits to the construction site. My tool belt is worn and dirty, you will see me swinging a hammer, picking up trash, and even sweeping the floors. I am a hands on builder!
I could write a book on the process of "to do's" and "not to do's" of design and site selection. I could do the same on how to maintain your sanity while building your home. I could go on and on about home construction simply because I love my job. If you have an interest in building a new home call me, Kevin Butler.